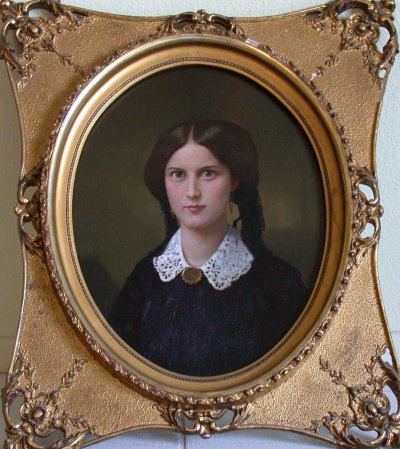 "The Portrait of Christie Ann Campbell LaRue (1836 - 1927)"
Oil on canvas. 16.25 inches by 13.25 inches. Signed T. Gegoux 1906. Painted from a photograph taken when the subject was about 25 years of age in 1861 or 1862 (1).
Photograph by Theodore Gegoux III © Copyright - All Rights Reserved
This biographical sketch was last updated on July 25, 2002.
Christie Ann Cambell LaRue has born in Oneida County, New York on September 14, 1836 one of eleven children born to Alexander Campbell and Christine Brown. Her father and mother were natives of Scotland, where her father was a man of considerable wealth at one time in Glasgow. Emigrating from Scotland to this county, Alexander settled with his family upon a farm in Oneida county and later removed to the Town of Pamelia, where he also operated a farm until his premature death, which occurred prior to 1850. This marriage produced eleven children the fate of some of whom is not entirely known as of this writing. After Alexander's death his wife moved with her children to the Town of Alexandria, where they lived for many years on the farm later owned in 1916 by William Allen. (2) The 1850 census found Christie Ann Campbell living with her mother in Alexandria, New York with two sisters and one brother, her father having died in Pamelia. (3).
Miss Christina Campbell and Mr. James R. La Rue, both of Alexandria, were married at Chadwick's Hotel in Theresa on November 1, 1859 by Rev. C. W. Treadwell (4). James R. LaRue was at the time of their marriage engaged in farming in the town of Alexandria, but later removed to Breedsville, Michigan where he conducted a general store and drug store. When her husband died in about 1871, Christie Ann Campbell LaRue returned to Alexandria with her son James Frank, who was then her only child, her daughter, also named Christie Ann ("Dixie" on her grave marker), having died on February 22, 1864. Christie Ann Campbell LaRue continued to reside in Alexandria seeing her son raised to manhood and to an eventual Judgeship. In about 1907 she moved to Philadelphia, New York to live with her son Judge James Frank LaRue (1861 - 1930).
Christie was a woman of charming personality and exceptional character, and although she had been in declining health in her later years, she was keen mentally and active physically until she became ill about three weeks prior to her death on July 13th, 1927. At the time of her death, Christie was the last surviving sibling of eleven children. She had a brother Alexander Campbell who was the founder of a dry goods business in Philadelphia (NY), which was operated by her brother's son, also Alexander Campbell, until it was sold to Leon Welch. Another of Christie's brothers was Ebenezer Campbell who was for many years (25) a customs collector at Alexandria Bay. A third brother was Major James B. Campbell a veteran of the War of the Rebellion. A fourth brother was Peter Campbell, who died in 1915, who's daughter Maude married Joseph Baumert of Antwerp. (5) Other siblings included Mrs. Jane Flint of Plessis, NY who died in about 1904 at Petoskey, Michigan and Mrs. Emily Pierce of Alexandria died at the home of her daughter Mrs. Joseph Helmer in about 1906 at the town of Plessis. (2) It is not known what became of the sister named Agnes who was listed in the 1850 census or the other three siblings who may have died young in life.
Christie's son Judge LaRue followed her in death a short three years later. Judge LaRue had married Nellie L. York, daughter of William and Margret Mosher York on July 5, 1892. (6) Together they had one son, Frank York LaRue (1905 - 1985), who also became a lawyer and judge like his father. Frank Y. LaRue had one son Frank Y. LaRue, Jr., who died in 1980, leaving no heirs to the LaRue estate. (7)
The portrait of Christie Ann Campbell LaRue would have fallen into the hands of collectors at some point after her death, but it is reasonable to assume that it would have remained with the estate of Frank Y. LaRue, who was the attorney of record and executor of both his father's and Christie's estates. The portrait surfaced recently in up state New York among a collection of civil war memorabillia. But for the carefully attached inscription on the back, would have become another of the many now anonymous portraits by the artist Gegoux.

(1) I have attached a photo of a Gegoux portrait that I own. It is of Christie Ann Campbell LaRue according to an old note taped to the back of the frame. I am planning on taking the painting to Lake Placid later in the week where a friend has agreed to exhibit it in his gallery. The price is $3400.00 if you are interested. I realize this is not inexpensive but it is an exceptional painting with a really great look. I wanted to give you the complete inscription on the back before the painting leaves my possession. It reads,"Christie Ann Campbell LaRue- Painted from photo taken at age 25 in about - 1861 or 1862. Great - Grandmother - Campbells Portrait - ( Glasgo) also painted at age 25." Good luck in your research and take care,
Signed David P. Gorton, 2002.
(2) Obituary of Miss Elizabeth Campbell, Watertown Daily Times, March 15th, 1916.
(3) An entry in the 1850 Federal Census showed the following:
Town of Alexandria - Jefferson County - New York
Extracted by Members of the Jefferson County Genealogical Society

| | | | |
| --- | --- | --- | --- |
| Campbell, Christine | 54 | F | Scotland |
| Campbell, Agnes | 26 | F | Scotland |
| Campbell, Peter | 17 | M | Farmer - NewYork |
| Campbell, Christie | 14 | F | NewYork |
| Campbell, Elisabeth | 11 | F | NewYork |
(4) Marriages in the "New York Reformer" 1850 to 1861, compiled by Richard W. Hungerford, Jr.
(5) Obitiary of Christie Ann Campbell LaRue, Watertown Daily Times, Special to the Times, Philadelphia, July 13th, 1927.
(6) Obituary of Frank James LaRue, Watertown Daily Times, March 10th, 1930.
(7) Obituary of Frank York LaRue, Watertown Daily Times, December 10th, 1985.