---
What's the Date?
Next time you visit the Jefferson County Historical Society, check the date yourself; the "Portrait of Justin Weeks" hangs in the staircase just inside the front entrance. It was hard, for many years, to know what date, let alone why that date .. 1897, appears on this Gegoux painting. Dates on Gegoux's work haves been notoriously difficult to make out, even with a flashlight and a magnifying glass. Just for fun, someday check Gegoux's signature on his portrait of Governor Flower at the Watertown Library .. bottom center .. can you find it?
The Justin Weeks portrait, executed in late 1889, was as well executed and celebrated as any work Gegoux ever did. The Daily Times article in 1889, refers to this portrait as a "Masterly Production .. which, both in the magnitude and manner of the work, excels anything that he had previously accomplished to this time." Haddock, for his part, wrote in 1894, "Gegoux, has painted an heroic sized portrait of Mr. Weeks .. reflecting great credit upon the artist, for he has made a picture that seems just ready to walk out of the frame, to become the very living man himself." So why did Gegoux sign and date the painting in 1897?
One likely theory was that, in 1897, the members of the Jefferson county bar first contemplated purchase of the picture for the purpose of placing it in the court house. However, several years passed until, in 1900, the bar was successful in acquiring the portrait for the court house through private subscriptions. The Justin Weeks portrait was then hung in the County Court House for 50 years. In 1950, the portrait was removed and eventually found its way to the Jefferson County Historical Society, where it has been exhibited these many years.
According to this theory, Gegoux could have prepared the portrait for sale with his signature and the 1897 date. Another equally likely theory, was that that Gegoux had simply chosen the date was a tribute to the life of the subject, who had died in 1897.
Both of these theories were reasonable, that is, until Peter Hastings Falk published the "Record of the Carnegie Institute's International Exhibitions: 1896-1996". The readers may well remember that, Pittsburgh industrialist Andrew Carnegie founded Carnegie Institute in 1895, and established the annual International art exhibitions the following year, 1896. In the 1990s, Mr. Falk was given full access to the Carnegie records and he chose, for his publication, to list all the works that were accepted for the Annual Exhibitions. Mr. Falk then also chose to list all those works that were submitted, but not accepted for the Annual Exhibitions.
Few Watertown historians would be surprised to find, in Mr. Falk's catalogue, the listing for Gegoux's "A Young Paganini", 1896, which was accepted by the Carnegie in 1896. The Gegoux Paganini painting, although it received no award, is listed in the Exhibition catalogue for that year, along with Winslow Homer, who won the prized medal for "The Wreck", 1896.
The surprise occurs when researchers look at the submissions for 1897, which record that Gegoux's "Justin Weeks" portrait was submitted for the 2nd Annual Carnegie Exhibition in 1897. However, the records also reflect that the portrait was not accepted for the Annual Exhibition.
It now seems more likely that Gegoux signed and dated the Weeks portrait, 1897, in preparation for submission to the Carnegie Exhibition. Perhaps future art historians will shed further light on this subject.
We extend our thanks and grateful appreciation to both the Watertown Daily Times and the Jefferson County Historical Society for their generous and liberal access to records.
Theodore Gegoux © 2011

---
More About the Portrait Subject: Justin Warren Weeks
The aged crier of the courts of Jefferson county, has been for so long an interesting character in Watertown, and is so favorably known to so many of the people of the county, that his portrait will be readily recognized and appreciated by our readers. The Weeks family is an ancient and honorable one, the name, in some of its varied forms, is of very great antiquity in England. The early emigrants to this country appear to have come mainly from the South of England, and doubtless sprang from among the yeomen and landed gentry of that fruitful section. They were generally men of enterprise -- some of them men of culture and of means, who at once assumed positions of honor and of influence in this new country. George Weeks, one of the early settlers of Dorchester, in the Massachusetts Bay Colony, was probably the progenitor of many of the Weeks family in the United States. He certainly is the one to whom the subject of this sketch traces back his genealogy.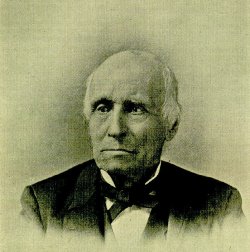 Justin W. Weeks was born in Watertown in 1806. In March, 1831, he married Rosalinda Rogers, by whom he had three children, Mary Persis, Addison, and Charles Warren. He was originally a farmer, then a teacher in Watertown and Hounsfield. Leaving the school-house, he became a clerk in Knowlton & Rice's book store; then in 1860, he was made special deputy county clerk, which position he has since held and still holds. His urbanity of manner, and the gentleness of his deportment, have made him many friends.
His golden wedding was celebrated in 1851, when himself and his beloved partner received many substantial tokens from sympathetic and admiring friends. His wife died in 1883, in her 74th year, rounding out a life of great usefulness. She was in every sense a Christian.
Mr. Weeks since then has resided with his daughter, Mrs. Elisha Hemenway, at 79 Franklin Street. He bears the burden of his nearly 90 years as well as could be expected, being daily seen upon the streets; but he looks upon himself as only a pilgrim, who may be called away any day to pass over and join that great but silent majority who have preceded him.
Of his three children, only Mrs. Hemenway and, his son Addison are now living. Mr. Weeks was for 35 years an exemplary member of Arsenal Street M. E. Church, and when State Street Church was set off he became an official member and trustee of the latter, a relation he holds today. His Christian experience and well-balanced life have been so exemplary as to entitle him to the universal respect he has so long enjoyed.

John A. Haddock, 1894 - Centennial History of Jefferson County, N.Y.

In 1881 Justin Warren Weeks and Rosalinda (Rogers) Weeks celibrated their golden wedding anniversery at which Justin received a "golden headed cane" and $300 dollars in Gold and other valuable presents. On May 13, 1896 in honor of his 90th birthday, Justin was presented with 3 gold coins while at the court. The presentation was made by Wilbur F. Porter on behalf of the lawyers, court attendants, and friends of Mr. Weeks. Mr. weeks had served as court crier since 1860. His first official office was deputy county clerk. His wife passed away in 1883 at the age of 74. When Justin died on December 14, 1897 he was buried at Brookside Cemetery in Watretown, NY, section L, lot #7.