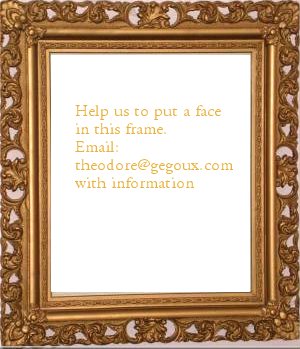 The Portrait of Susan (Woodruff) Titsworth (1809 - 1875)
Oil on canvas, 1883 - posthumous
Wife of Jacob Titsworth (1809 -1889).
Whereabouts unknown
Jefferson County Journal, Adams, NY.
---
Jefferson County Journal - May 2nd, 1883 - Adams Centre, NY
Prof. Gegoux, of Watertown, has just finished a "life size"* oil portrait of M. D. Titsworth's Mother.
*(Life Size was 32 x 26 inches)


Susan Woodruff was born on December 3, 1809 in Bridgeton (Cumberland), New Jersey. She married Jacob Titsworth in the same town on November 27, 1830. On June 8, 1843 their son Martin Dunn Titsworth was born unto them at Adams Center, New York.
Obituary of Martin D. Titsworth (1843 - 1915) - Jefferson County Journal, September 1, 1915
Martin D. Titsworth (son of Jacob Titsworth and Susan Woodruff Titsworth), a prominent druggist of this village (Adams), and it one time postmaster, died at his home in this village Tuesday (August 24th, 1915) afternoon about 2:00 pm after a short illness, aged 73 years. Mr. Titsworth came to this village many years ago, and for several years operated a general store here, at which he was postmaster. Later he sold his general store and opened a drug store, which he had operated himself up to a short time ago, when sickness compelled him to leave his work. He was a veteran and a member of DeAlton Cooper Post, G. A. R. (Grand Army of the Republic).
---

Obituary of Ellen (Kellogg) Titsworth (1843 - 1924) - Jefferson County Journal, February 27, 1924
Mrs. Ellen A. Kellogg Titsworth of Adams Center, aged 75 years, died Sunday morning (February 25, 1924) suddenly following a short heart attack. She was born in Adams Center June 27, 1848, a daughter of Luke and Ada Kellogg and had resided in that village all of her life. Her mother passed away when she was three months old and she was taken into the family of her aunt and uncle, Mr. and Mrs. Orrin Kellogg, with whom she resided until married to Martin S. Titsworth on October 20, 1870. Her husband died in 1915. There were no children born of the union. Mrs. Titsworth was a Seventh Day Baptist. Several nephews and nieces survive. The funeral was held Tuesday afternoon at 3:00 pm with Rev. L. F. Hurley officiating. Burial was made in the Union cemetery.