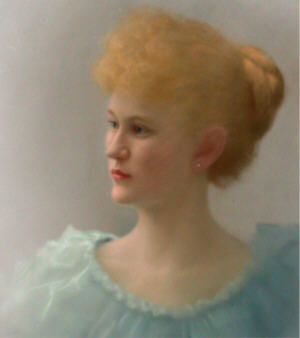 "The Portrait of Aunt Molly (1871 - 1895), a doublet"
Pastel on paper. 27 inches by 22 inches. Signed Theo Gegoux pinx 1895
Photograph by Theodore Gegoux III 2002 © Copyright - All Rights Reserved
The subject of this portrait is Molly Baird (1871 - 1895), sister of Nellie Baird Mullin, both of Watertown, New York. The portrait was handed down to Nellie's daugther Dorothy Mullin Squires to whom this webpage is dedicated. The portraits of Aunt Molly were commissioned by the Baird family after Molly died prematurely in her early 20s. Theodore Gegoux (1850-1931) executed the portraits posthumusly from a photograph and verbal descriptions of Aunt Molly.
Helen Carbone became close friends with her neighbor Dorothy Squires as these ladies both suffered the loss of close family members. First Dorothy lost her brother, then Helen lost her son. The two ladies bonded in mutual grief and support which began a friendship that lasted through the years. Before Dorothy passed away in the early 1980's, she made it clear that she wanted Helen, her best friend, to have Aunt Molly's portraits. As of this writing it is not known why the family had two identical portraits executed. It will be our pleasure to post Dorothy's family history here at this webpage when it becomes available.
The provenance and dedication were contributed by Helen Carbone of Watertown, New York - November 6, 2001 © Copyright - All Rights Reserved.