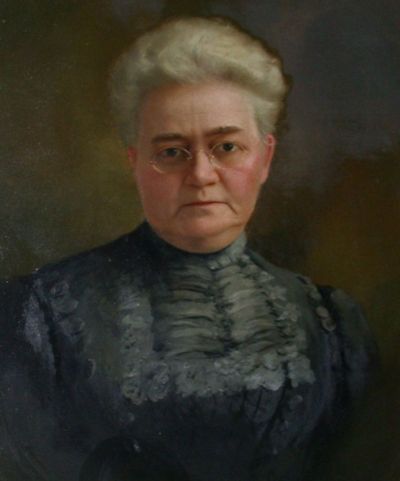 "The Portrait of Ella Snell Fuller"
Oil on Canvas. 40 inches by 26 inches. Signed T. Gegoux 1908 Shown here courtesy of the Jefferson County Historical Society. Painted at Watertown, New York. Photograph by Theodore Gegoux III - 2001 © Copyright - All Rights Reserved
Ella Shell (1846 - 1909) was born on Septmber 2, 1846 the daughter of David F. and Mary A. (Eigabroad) Snell. Ella was maried to Harrison Fuller (1845 - 1904) on October 25th, 1865. Together they had one daughter Martha Annette Fuller. Ella died on November 23rd, 1909 and was buried in the Honeyville Cemetery, New York.
Our grateful appreciation to the Genealogy Department of the Flower Memorial Library in Watertown and to Jeanne Brennan for providing this provenance.