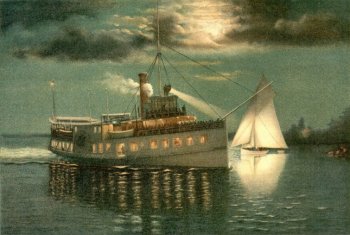 The Salute depicts the St. Lawrence steamer on one of its evening tours of the river.
Taking the excursion aboard the popular St. Lawrence, with its great searchlight for evening trips, was considered a "must" on the vacationist's schedule. This boat probably comes most readily to the mind of such persons as enjoyed "summering at the river" during those years between 1890 and World War I. Built in Clayton in 1884, she was a steel-plated sidewheeler of 312 tons. Prominently displayed on the wheel housing was the widespread eagle, which with its characteristic whistle, were identifying features.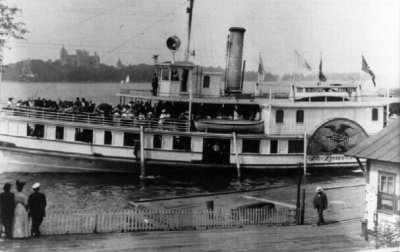 Courtesy of Alexandria Bay's Historian
Photograph by Gray Lithograph Company, N.Y. © Copyright - All Rights Reserved.
Much has written in a nostalgic style regarding that so-called Steamboat Era which gradually passed away as the Twentieth Century advanced.
-- Text provided by the Jefferson County Historical Society, "Bulletin", vol. 25, May 1993, written by Hazel M. McMane, Historian, Alexandria Bay, New York.