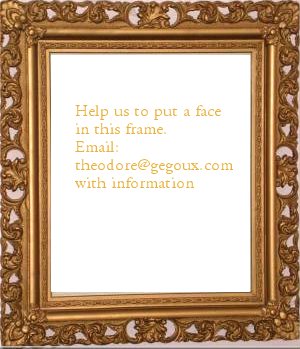 The Portrait of Ida Myers ( - 1883)
Crayon on paper, 1883 - posthumous
Whereabouts unknown
Jefferson County Journal, Adams, NY.
---
July 11th, 1883 - Adams, NY
B.F. Hawes has had a crayon picture of his daughter, the late Mrs. C. F. Myers drawn by Prof. Gegoux, of Watertown. It has been placed on exhibition for a few days in W.H. Withington's drug store, where it is much admired.


Obituary of Ida Myers - Jefferson County Journal, April 18, 1883

The death of Mrs. C. F. Myers, which took place in her residence in Watertown, April 14, 1883, has cast a gloom over this community where she as long resided. Why she was thus taken in the bloom of her womanhood when but just starting in the struggle against the stern realities of life, why she was thus removed at the very threshold of a happy and usefullife, must like so many other sad events taking place all around us remains a mystery to all save Him to whose providence we must submit, whose ways to man are past finding out and revealed only beyond the grave.
Ida Myers, daughter of Mr. and Mrs. Benjamin Franklin Hawes, resided in this vicinity until her marriage to Mr. C. F. Myers of Watertown, about two years since. She was a member of the Adams Baptist church and for sometime an earnest teacher in the Sabbath school. In society her kindness of the heart and pleasing manner will long be remembered. In the church her ready hand in every good work for the advancement of Christianity and upbuilding of the society was ever manifested. In the Sabbath school many classmates and scholars will testify to her good work. The scene in her last hours is a fitting epitome of a well ordered Christian life. Approaching the terrible ordeal calmly waiting and watching for the transition from time to eternity. Strengthened by the hope of the Christian's faith she did not shrink from death's iron grasp, but with a clear voice sang one verse of "On Christ the solid rock I stand," thus passing away with the song of the redeemed on her lips.
The touching remarks of many of the teachers and members of the Sabbath school during the last session convened April 15th, expressing their appreciation of the labors of Ida while with them, and their high esteem for her Christian character, will not soon be forgotten.
---
Ida's father, Benjamin Franklin Hawes who commissioned this portrait, died at the age of 72 on February 4, 1903. He was survived by his wife and two daughters, Mrs. E. J. Waite of Adams and Mrs. B. M. Greene of Adams Centre.
---
Ida's mother, Phebe Ruth (Gardner) Hawes (1831 - 1904) died on September 12, 1904 at Adams, New York. Mrs. Hawes was the daughter of Mr. and Mrs. Henry Gardner of Lorraine. She was survived by her two daughters. One of whom may have inherited the Ida Myers portrait.
---
Ida's sister, Mrs. B. M. Greene was born Jessie Hawes (1872 - 1938) on September 30, 1872 at Adams and died at at Adams Centre on July 2, 1904. Surviving her were her husband; two daughters, Mrs. Carl Sayles, Boston, Mass, and Mrs. Gerald F. Miner of Chicago, Illinios; one sister Mrs. E. J. Waite of Adams; and four grand children.
---
Ida's sister, Mrs. Edward Judson Waite was born Mary Hawes (1859-1946) on July 17, 1859 at Adams and died February 4, 1946 also at Adams. Her husband Edward Judson Waite had died on May 20, 1942 at Adams. She was survived by her son Franklyn E. Waite of Adams; two grandchildren, Lieut. E. Judson Waite II, who was at that time (1946) serving with occupation forces in Austria, and Mrs. H. Barret (Helen Ann) Hayes of Albany, Georgia; and a niece, Mrs. Gerald Miner of Glencoe, Illinios