Marian Griswold (who later became Mrs. George Cole) was the maternal grandmother of Eugene, who shares the following with us: "Marian, the only grandchild of Jeremiah and Eunice (Strong) Griswold, was then 18 and unmarried. While her father, Henry S. Griswold, and mother, Mary L. Redway, had been born in Adams, New York, and neighboring Lorraine, respectively, Marian had grown up in Chatfield, Minnesota. But in the summer of 1880, her father's two spinster sisters visited Chatfield and brought her back to Adams. During the following school year, she attended Hungerford Collegiate Institute there. The portrait must have been done within a few months of her arrival. When I was a boy (I'm now 59), my mother told me that the young man who had rendered her mother's likeness (Gegoux) had become smitten with her and wanted to marry her. It was undoubtedly Marian herself who had told my mother this. While it's thus virtually certain the two had direct contact, Marian did not sit for the portrait: it's identical to a photograph I have of her, taken at Watertown, New York. I would not be surprised if the photo was left with Gegoux at his Watertown studio on the same trip." Eugene Zubrinsky to Theodore Gegoux III, February 13, 2000. © Copyright - All Rights Reserved.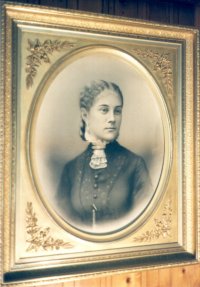 Marian Griswold (1862-1931)

Portraiture by Theodore Gegoux (1850-1931)
Crayon portrait on paper, signed and dated T. Gegoux, 1880
Which measures 22 3/4 x 17 3/4 inches at the inner oval
Photograph by Eugene Zubrinsky © Copyright - All Rights Reserved


The article quoted below describes the portrait of Marian's paternal grandmother, Mrs. Eunice (Strong) Griswold, and in so doing, sheds some light onto the talents of Gegoux as an artrist.
Jefferson County Journal - April 21, 1880
"There is on exhibition at Withington & Kneeland's a crayon portrait of Miss Mamie McKay by Professor Theodore Gegoux of Watertown. It is from a photograph taken in Berlin during her absence abroad. To say this is a fine portrait is modest praise indeed. The oft-repeated complaint that crayons are cold and lifeless is fully answered in this as in all of his works. There is in them a warmth and depth, a life and expression rarely attained by other artists. Another work of his recently sent here is a portrait of the late Mrs. J. Griswold. No picture of her of any kind had ever been taken; nor does any member of her family resemble her sufficiently to be a guide either in features or expression - even fancied resemblances when wrought out in every instance proved a failure. Professor Gegoux had never seen her, yet by patient study of her character as portrayed to him by language, by descriptions of her ways and moods, he has produced a picture that is recognized at a glance by everyone at all familiar with her face. What at first seemed an impossibility is an accomplished fact. The portrait is simply a creation, and stamps Mr. Gegoux a genius of the highest order."