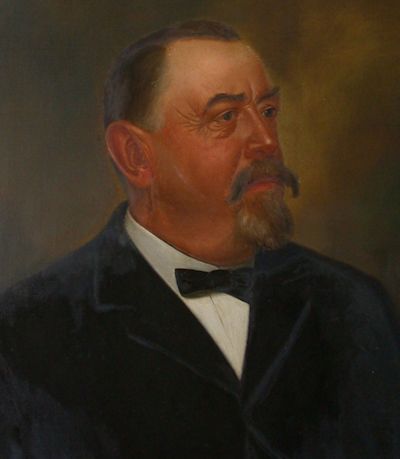 "The Portrait of Harrison Fuller (1845 - 1904)"
Oil on Canvas. 40 inches by 26 inches. Signed T. Gegoux 1908 Shown here courtesy of the Jefferson County Historical Society. Painted at Watertown, New York. Photograph by Theodore Gegoux III - 2001 © Copyright - All Rights Reserved
Harrison was born on August 1st, 1845 at Adams, New York, the son of William Fuller and Martha (Keep) Fuller. On October 25th, 1865 he married Ella Snell (1846 - 1909). Together they had one daughter Martha Annette Fuller. Harrison was elected to the general state assembly in 1891. He served for many years as a Republican from Adams, where he owned an extensive farm. Harrison died on June 2nd, 1904 after being injured in a carriage accident. He was thrown from his carriage on Washington Street while driving into the city to attend the weekly meeting of the Produce Exchange. He rallied from his injuries, but Bright's disease caused complications which resulted in his death. He was buried in the Honeyville Cemetery, New York.
Our grateful appreciation to the Genealogy Department of the Flower Memorial Library in Watertown and to Jeanne Brennan for providing this provenance.