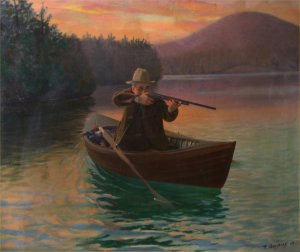 "The Portrait of a Duck Hunter (Milo L. Cleveland)"
Oil on Canvas. 22 inches by 28 inches. Signed T. Gegoux 1907. Milo is depicted shooting ducks on Adirondack Lake. Painted at Watertown, New York.
The portrait is shown here courtesy of the Jefferson County Historical Society. Photograph by Theodore Gegoux III - 2001 © Copyright - All Rights Reserved.
Milo L. Cleveland (1851 - 1912), the well known contractor, and one of the most valued citizens of Watertown, New York, was born at East Houndsfield, New York on July 4, 1851, a son of Philander B. and Mercy (Richardson) Cleveland. Milo married Lucy B. Warren (1856 - 1941), daughter of Charles H. and Lydia (Holloway) Warren, on Dec 9th, 1874. Their only child, Carrie Cleveland (1877 - 1918) married Arthur C. Ives, in June 1898, with whom she had two children, Merle and Vernon.
Milo was a contractor in Northern New York who during his life constructed hundreds of miles of railroad, many bridges of the stone arch type, and he deepened and widened many canals such as the Welland, Galoop, & North Channel canals in Canada. Milo also built many Watertown buildings to include the Opera House, the Elks building, the former Cleveland building and he also built the C. R. Remington paper mill at Glen Park. Milo was a member of the board of public works and for two years a member of the board of supervisors. Milo died on August 3th, 1912 at the age of 61 after a long illness. The portrait was donated to the Jefferson County Historical Society by Lucy B. Cleveland, Milo's widow, in the year 1939.
Our grateful appreciation to the Genealogy Department of the Flower Memorial Library in Watertown and to Jeanne Brennan for providing this provenance.

---

Philander B. Cleveland, one of the esteemed and oldest citizens of Houndsfield, died very suddenly at his late residence on the Sackets Harbor road, a few miles from Watertown, February 23, 1895. He was in his 72d year. Philander B. Cleveland was born in the town of Rutland, being a son of Harvey Cleveland and grandson of Isaac Cleveland, both early settlers of this county. Isaac Cleveland was a Revolutionary soldier and was born in Connecticut, whence he removed to Rutland, finally locating in Houndsfield, where he died, aged 80 years. His son Harvey was born in Connecticut and served in the War of 1812. He came to Jefferson county among the early settlers, and finally located in Houndsfield, where he died in 1887, aged 80 years, the same age as his father. Philander B. lived 63 years on the farm where he died. He was married 47 years ago to Mercy Richardson. Besides his wife, the following children survive him: Merritt A. Cleveland, of Brockport; Milo L. Cleveland and Stephen R. Cleveland, of Watertown, and Miss Flora Cleveland, of Houndsfield.
Hamilton Child's Gazetteer of Jefferson County - Town of Houndsfield