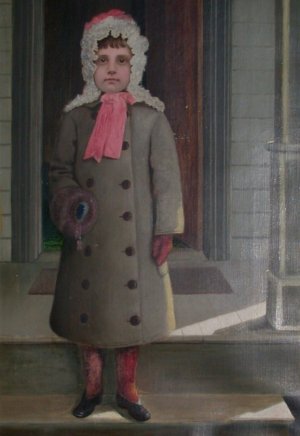 Portrait of Marion Estelle Cooper (1874 - 1881)
Painted by Theodore Gegoux (1850-1931) from a daguerrotype.
Post humous* oil on canvas measuring 26 inches by 13 inches, unsigned.
Photo Courtesy of Jefferson County Historical Society
Painted at Watertown, New York circa 1882.

Just for fun ...
Gegoux's 1880 - 1881 Watertown Directory advertisement
- showing prices and techniques.



Marion was born on March 2nd, 1874 at Cape Vincent, New York the youngest child of Thomas Henry Cooper and Anna Rebecca Tanner Cooper. Marion's father Henry was a conductor on the Watertown - Cape Vincent Railroad and a self-taught musician, having played a violin for transmission of sound on the first telephone connection in Jefferson County. Marion died on November 4, 1881 aged 7 years, 8 months, and 3 days. The funeral was held in the family residence at 58 Stone Street, Watertown, N.Y..
* This is a well documented example of "posthumous portraiture", which flourished in the middle third of the 19th century. These paintings were drawn from the corpse and they expressed "the desire for the restoration of the dead through art" (P. Lloyd - 1980). Gegoux was well known for this type of portraiture. Many are the examples contained here at this webpage, with many more yet to be uncovered in the North Country of New York.
Some More History of this Painting:
The Honorable Bemen Brockway (1815 - 1892) commissioned this portrait for the Cooper family after the child's death; Bemen was a next door neighbor of the Coopers. Haddock's Centennial History of Jefferson County, N.Y., 1894, states that the Hon. Bemen Brockway was born in Southampton, Mass on April 12, 1815; and died in Watertown, NY on December 16, 1892. He was the editor of the daily Times and Reformer, and the first President of the Jefferson County Historical Society, having been elected at its' founding on May 10, 1886. Kimball's Watertown City Directory of 1880 - 1881 lists Mr. Brockway's address as 56 Stone street.