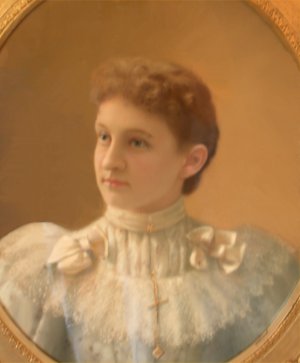 "The Portrait of Bertha Powell"
Pastel on paper. 27 inches by 22 inches. Signed Theo Gegoux 1896 Shown here courtesy of the Roberts Family of New York. Painted at 3 Mile Bay, New York from a photo and verbal descriptions.

Bertha M. Powell was born in the town of Cape Vincent March 21 1877, and died at her home November 22, 1895. Bertha was one of a large circle young people in the vicinty of St. Lawrence by whom she was respected and beloved; of a cheerful disposition, carring sunshine wherever her went. She had consecrated herself to the service of her loving Savior, and the future was full of promise, but consumption intervened and she fell under its power. While health and strength permitted she was active in every good work that appealed for aid. With several of her associates she had given her name to the Methodist Episcopal church at St. Lawrence and expected to take her place as a burden-bearer for the Lord. She was a model of gentleness and patience during her long sickness, never complaining, but always had a smile and a pleasant word for every one to the last. She was affianced to a worthy Christian young man, who feels keenly the stroke that has taken from him the dearest earthly friend. She passed away looking upward to behold her Savior coming to convey her pure spirit home. May her parents and grandmother and afflicted friend look up for supporting grace in this their time of need, and may this affliction prove to them a blessing in disguise. Her funeral was attended from the house on Monday, November 25, the sermon being preached by the Rev. S.M. Warne, of Clayton, from Matt. 23 verse 38, the Rev. George Torrey assisting in the service.