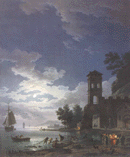 Calm sea in moonlight
Vernet Claude Joseph :"Morning Landscape with fishermen, and a calm sea in moonlight",
a pair, interior decoration, 303.5 x 260 cm, Sotheby's New York, Jan 30th 1998: US $ 1,212,500 (inclusive of buyer's premium).
Estimated between US $ 1 and 1,5 million, these two decorative paintings went just above the low pre-sale estimate probably because of their size too important for most plush apartments in the States or in Europe. Only the owners of big houses could be interested in these monumental paintings called panneaux décoratifs which were originally intended to play a particular role within
a decorative ensemble. Such paintings were certainly commissioned at the outset when the interior decoration of a house, whether in Paris or in the English countryside, was initially being planned.
Vernet was amongst the most famous and successful landscape painters in France. These two paintings formed part of a commission of seven ordered by Denis-Pierre-Jean Papillon de la Ferté between 1767 and 1785. They were intended for a decorative ensemble of a salon in his Paris hôtel particulier . The first pair was paid for in July 1777 and a second, that sold by Sotheby's, in September 1778. The four paintings remained en suite through the ownership of the Comte Roy and were dispersed only at his sale in 1848. The pair to which we refer here only reappeared in 1979. Papillon de la Ferté, who was guillotined in July 1794, was a keen collector of landscapes, mainly by Boucher, Hubert Robert, Fragonard and Vernet. After his trial and subsequent execution his collection was seized and partially returned to his family to be sold in February 1797. This sale did not include the Vernet panels which had been part of the decorative ensemble of what must have been one of the most beautiful salons in Paris at the end of the 18th century.