Claude-Joseph Vernet (1714-1789) - sketches
The information here is courtesy of Eric Stiebel © All Rights Reserved.
Joseph Vernet was the central figure in the development of landscape painting in 18th century France. Celebrated as his paintings have always been, Vernet's drawings represent a hitherto neglected aspect of his oeuvre.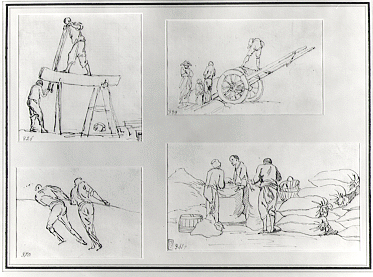 JOSEPH VERNET (1714-1789)
STUDIES OF WORKMEN (4 sketches matted and framed together)
French, mid-18th century - - Brown ink and black chalk
Dimensions of frame, 16 x 19 1/2 inches (40.6 x 49.5 cm.)
A native of Avignon, Vernet went to Italy at age 20 where he established a reputation as an outstanding interpreter of landscape and marine scenes. The Marquis de Marigny, brother of Madame de Pompadour and arts minister to Louis XV, tailored the most important royal commission of the time to Vernet's talents. In 1753 the artist was asked to depict the great ports of France and given a set itinerary, but total freedom as to subject and composition. He worked twelve years at the task and the result was a unique series of large-scale paintings which far outstripped the dry tradition of topographic documents as they captured the light and life of the nation's harbors.
It is hardly surprising that Vernet's drawings are little known as he did not intend them for sale but created them as visual references for use in his studio. The 1790 sale after his death included almost 700 finished drawings plus an undetermined number of sketches. The Bibliothèque d'Art et d'Archéologie, Paris and Fondation Labouchère, Nantes have notebooks of sketches while the Albertina has 19 drawings and the Louvre has an album with the contents of at least three notebooks.
The present small studies of men sawing, hauling, carting and loading bales of cargo come from an album of the artist's observations of scenes and figures he encountered in the ports of France and Italy. The group of two men pulling on a rope recurs in three paintings of shipwrecks dating from 1750 and 1751 all of which were commissioned by Englishmen on the Grand Tour. Figures such as these infused Vernet's paintings with immediacy and animation, inspiring Diderot to write "he [Vernet] has men, women and children in reserve with which he populates his canvas as one populates a colony".