An Italien Landscape by Claude-Joseph Vernet.
Dulwich Picture Gallery © - All Rights Reserved.
Claude-Joseph Vernet trained under local Provençal artists before moving to Rome in 1734 to draw antiquities and study the Old Masters. His studio in Rome attracted artists and art collectors of all nationalities, and his own works were much imitated. He returned to France in 1753, and worked on a major series of paintings, The Ports of France, commissioned by Louis XV. He died in his studio in the Louvre.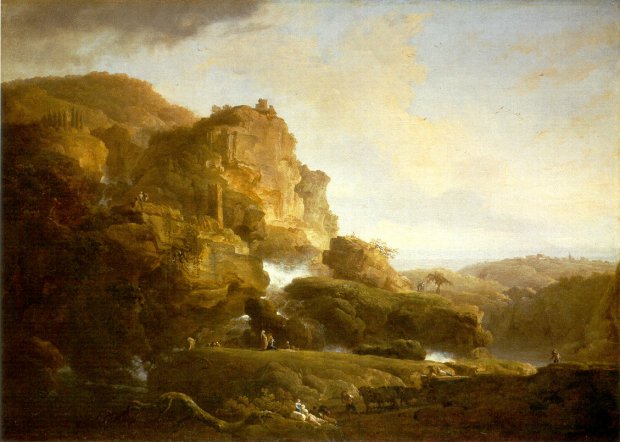 Italian Landscape
Oil on Canvas, 123.8 × 174 cm. (48 3/4 x 68 1/2 in.)
Signed and dated, Fait à Rome par J Vernet 1738 - Inv. no. 328.
The Dulwich picture is one of the earliest dated landscapes known from Vernet's hand. While in Rome, Vernet, although he had not undergone the official training of the Royal Academy of Painting and Sculpture in Paris, was offered the working facilities of its branch in Rome. Mariette informs us that he preferred the less formal activity of studying landscape from nature, and to this end he explored Rome and its surrounding countryside. This assiduous study of nature laid the basis for his reputation among contemporaries as a painter of landscapes more 'natural' in their observation of colour, light, atmosphere and terrain than the artificial and decorative landscapes of contemporaries such as François Boucher or Domenchin de Chavannes.
In Rome and Naples Vernet soon established a reputation as a painter of landscapes and coastal scenes' attracting commissions from Italians and from French and British visitors to Italy. He was in demand both for topographical works and for imaginative evocations of the Italian coasts or popular sites of scenic grandeur and beauty such as the Roman Campagna and Tivoli, celebrated by landscape painters since early in the previous century. In Italy Vernet was well placed to study the landscapes and coast scenes of his eminent seventeenth-century predecessors, Claude Lorrain, Gaspard Dughet and Salvator Rosa. The grander, more monumental landscapes of the last two artists could have formed starting points for the Dulwich Italian Landscape, which also shows the benefits of Vernet's study of nature's effects.
As demand for his works grew, he began in the early 1740s keeping fairly regular account books, and we can often identify the patrons of particular works. This is not the case with the present picture, it is not recorded until 1795, in the sale of the collection of Charles Alexandre de Calonne (1754 - 1802). Calonne would have purchased it late in the century in Paris or in London, where he went into exile in 1787. Vernet's early works - those executed during his Italian period between 1734 and 1753 - were especially sought after by later eighteenth century collectors, and the Dulwich picture is a fine example of the type. Towards the end of his career, critical opinion was that Vernet's works painted before his return to France in 1753 were more attractively broad and supple in handling.
The remarkable Dulwich landscape hardly conforms to our conventional ideas of French (or Italian) painting around 1740. Indeed in its darkness, grandeur, and essentially tonal effects it is unusual in Vernet's works as at present known. When put up for auction in 1795, it reminded the author of the sale catalogue of the type of mountainous sites which inspired Salvator Rosa ("It is evident that Vernet has imitated the style of Salvator Rosa") - and with some reason, not only because of the type of site and predominant brown tonality, but also because we know that at least by the 1740 Vernet was indeed receiving specific commissions for landscapes in the manner of the seventeenth century artist. The small classical temple on the cliff-top, similar to the famous round temple at Tivoli, led the 1795 cataloguer to identify the site as "near Tivoli"". But really this feature (which appears more prominently, for example, in the 1746 Coast Scene with the Temple of Vesta, Tivoli in the Minneapolis Institute of Arts) is employed in this landscape in a general associative way to evoke some remote ancient religion, while the fortified tower reminds us of the warring lords of mediaeval Italy. The physical grandeur of the place is underlined by the presence of the tiny figures going about mundane business - a laden ox-cart labouring up the slope, foot-travellers resting by the road with their loads, and other little figures clambering over the rocks to appreciate the view or peer down into the awesome gulleys. The figures are deliberately small in scale to impress upon us the sublime vastness of nature.
It is a wonderfully sustained and still fresh piece of painting - bold in design, and with a range of handling from the solidly modelled figures, to the fluid and varied treatment of the rocky crags to the left, the thinly scumbled clouds of an approaching storm, and a softer impasto for the misty distance of evening as it fails on a far town to the right.
Philip Conisbee © - All Rights Reserved.
Provenance: C.A. de Calonne; his Sale, 23rd ff. March 1795, no. 72 of the fourth day's Sale: bt. privately by Desenfans: Bourgeois Bequest. 1811.
Literature: Florence Ingersoll-Smouse Joseph Vernet: peinte de marine (1926).
I, 1973, p. 69, no. 466: P. Conisbee, Burl¸ Mag., CXV (1973)¸ p. 789 ff. P. Conisbee, Claude-Joseph Vernet (exhibition catalogue, The Iveagh Bequest, Kenwood, London, 1976, & Musée de la Marine, Paris. 1976-77), no 4.