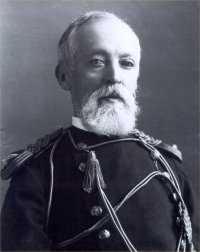 According to records at WorldConnect, Alexander Piper was one of 11 children born to Alexander M. Piper (1786 - 1869) and Ann Epsy Elder (1794 -1886) of Bedford Co, PA. Alexander Piper was married to Adelaide Cozzens in about 1870. It is not known whether they had any children. Alexander Ross Piper, born March 1, 1865 in Fort Wadsworth, Staten Island, N. Y. was a nephew. Alexander Ross Piper was also a West Point Academy class of 1889 graduate.
Col. Piper served a total of 40 years as a commissioned officer in the Regular Army being retired on July 1, 1891. During his career he served with distinction as an artillery instructor at West Point and did tours of duty at Fort Hamilton, New York, St. Augustine, Florida, and the Presidio in San Francisco, where he was the Commanding Officer on several ocassions.
According to the New York Times, Col. Piper was killed in the Park Avenue Hotel fire in New York City on February 22nd, 1902 at the age of 72, and was buried at West Point.
"A fire occurred in the armoury of the 71st Regiment at New York, and spread to the Park Avenue Hotel. Seventeen people were killed and 50 others were injured. Great damage was done. - New York Times, February 23th, 1902."
Although Mrs. Piper was also present in the hotel at time of the fire, she survived unharmed and as of this writing, what ever became of her is unknown. The War Department received a telegram from Cpt. A. R. Piper at the time of the colonel's death.